Ducati
999R FILA
2003
Ducati

999R FILA

2003

€20.000,00

Stock # AMGP676

Ducati 999R FILA

146 hp – 10.750 RPM

4Strokes – 193 KG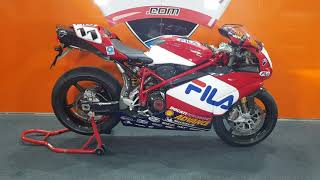 Jonhy
Perfect restoration and maintenances for my bikes. Never had problems with Amatumoto Garage. Really professional technicians on the garage

Ducati 999R FILA
146 hp – 10.750 RPM
4Strokes – 193 KG
Information & Specifications
---
Ducati 999R Fila Edition Nº 0085 / 200
Engine: Ducati
Suspension: Ohlins
Brakes: Brembo
Wheels: Marchesini 17″
Exhaust: Termignoni Full Exhaust
Bike Registered in Spain
Mileage:  3.700 KM
Availability: Immediately in Amatumoto Europe (Barcelona)
MODEL INFORMATION
Ducati introduced the 999 in 2003 amid much controversy over its styling, but the performance was beyond reproach. With its traditional L-twin desmo motor, it had high power and torque figures available even at low RPM, with linear power delivery throughout. Additionally, with its high spec suspension and trellis chassis, it is one of the finest handling motorcycles of its time.
The 999R FILA edition was built to celebrate Ducati 200th win in WSBK, the FILA edition got a 10 horsepower bump over the standard bike and a some performance parts more than the 999R. Only 200 units were produced around the world and twas considered the most exlusive model of the 999 range.
Do you want a SBK Road Bike? Our company can get the most exclusive bikes of the market. Only for VIP customers, museums or exclusive collectors! Contact with our team and inform yourself. – RESERVE NOW
In our VIP club you will find the most exclusive race and road bikes, also you can offer your bike for manage the sale. We work with customers to worldwide and we want offer the best service and products.
At Amatumoto Grand Prix Motorbikes, we take pride to have in our stock great exclusive bikes used on the races. That said, we understand that the collector of bikes hobby is enjoyed by some of the most passionate and diverse enthusiasts on the planet.
Detailed Technical Information
---
Frame (VIN): ZDMH400AA3B007109
Engine: Ducati

Engine number: ZDM999W4*001060*
Current Mileage: 3.700 Km
Last Service: 100 Km
Clutch: Ducati Dry Slipper Clutch 6 springs
Radiator: –
Exhaust: Termignoni Exhaust System 57mm

Suspension & Wheels

Front fork: Ohlins
Rear shock Ohlins
Steering damper: Ohlins
Front wheel: BST Carbon 17″
Rear wheel: BST Carbon 17″

Brakes

Front Brake Master Cyl.: Brembo
Rear Brake Master Cyl.: Brembo
Front Brake Caliper/s: Brembo
Rear Brake Caliper: Brembo
Front Brake Disk/s: Brembo
Rear Brake Disk: Brembo

Electrical & Wiring System

ECU: Ducati
Data Acquisition: –
More about this bike:
Ducati 999R Fila Edition nº 0085 in good condition and ready to ride. The bike was showed during more than 2 years in a Ducati Center and was in 2006 when the first owner purchased it for his collection and registered the bike in Spain. After some years practically without use the bike was purchased by the last owner that improved the bike with a lot of performance parts only for hobby. Only used for special weekends and tested on the track (around 300Km – amateur style), for this reason the few mileage. This 999R Fila will not leave you indifferent when you see all the improvements it has. It was the whim of the last owner and he had it perfectly cared for and checked.
Fully details on specs & parts like:
– Carbon Wheels BST
– Swingarm model 2005 SBK Style
– Clutch Ducati 6 springs
– Gas Throttle Domino
– Carbon fender
– Carbon Ram Air
– Engine Cover Carbon
– Tail Light in led
– Handlebards + clamps
– Gear Indicator
– Seat performance
– Gas tank racing
– Termignoni complete exhaust 57mm
– Brembo Calipers
– Others
Extra parts included with the bike
– Owners Manual & Docs
– Ducati Cover
– Ducati Battery Charger
– Ducati Original Parts: Exhaust, Tail Light, Plastic Cover, Mudguard, Handlebar, Gas cap..
– IRC TC