Moto Guzzi
Bialbero
1957
Moto Guzzi

Bialbero

1957

€78.000,00

Stock # AMGP691

Engine Moto Guzzi

38 hp – 7.500 RPM

4Strokes – 130 KG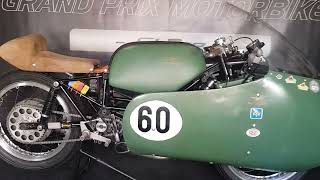 Stuart
Hey Tom, this bike is way better than expected. It's absolutely beautiful! I can't thank you enought!!
Engine Moto Guzzi
38 hp – 7.500 RPM
4Strokes – 130 KG
Information & Specifications
---
Moto Guzzi Bialbero 350 1957
Engine: Guzzi
Suspension: Moto Guzzi / Girling
Brakes: Guzzi GP
Wheels: Akront 19″
ECU: n/a
Exhaust: n/a
Availability: Inmediately in our store of Amatumoto Europe (Spain)
MODEL INFORMATION
This model it's one of the most successful racing models of Moto Guzzi (5 world championships since 1953, the year of debut, to 1957, the year of retirement from competition). This is an evolution of the model 250 that recorded numerous technical innovations over the years: from the frames mixed in tubes and plates are moved first to trellis frames and later to wraparound frames very rigid and with the engine suspended. The highlight of this model was the engine (very simple and reliable): a horizontal single-cylinder DOHC bevel gears, gear box and a five-speed, ignition distributor (magnet on the latest models). Other important aspects were about the adoption of fairings eveloped using a wind tunnel of Moto Guzzi property, the adoption of special steels and ultralight alloys which contained the total weight (220 lb in the latest version), facilitating greatly riding. To be underlined also the reduced fuel consumption that allowed to compete in races of long duration (such as TT) without the need to refill. The fuel, in fact, was in the barrel tank over the engine and the lubricating oil was inside of the frame tubes.
Do you want a Classic GP? Our company can get the most exclusive bikes of the market. Only for VIP customers, museums or exclusive collectors! Contact with our team and inform yourself. – RESERVE NOW
In our VIP club you will find the most exclusive race and road bikes, also you can offer your bike for manage the sale. We work with customers to worldwide and we want offer the best service and products.
At Amatumoto Grand Prix Motorbikes, we take pride to have in our stock great exclusive bikes used on the races. That said, we understand that the collector of bikes hobby is enjoyed by some of the most passionate and diverse enthusiasts on the planet.
Detailed Technical Information
---
Frame (VIN): **S10006**
Engine: Guzzi Single Cylinder

Engine number:  n/a
Current Mileage: n/a
Last Service: 50 km since last service
Clutch: n/a
Radiator: –
Carburettor: Dellorto SSI 45
Exhaust: n/a

Suspension & Wheels

Front fork: Girling
Rear shock: Girling
Steering damper: n/a
Front wheel: Aluminium 19″
Rear wheel: Aluminum 19″

Brakes

Front Brake Master Cyl: n/a
Rear Brake Master Cyl: n/a
Front Brake Caliper/s: GP Twin lever
Rear Brake Caliper: GP single lever
Front Brake Disk/s: n/a
Rear Brake Disk: n/a

Electrical & Wiring System

ECU: –
Data Acquisition: –
More about this bike: MOTO GUZZI Bialbero 350 1957 ideal for specialist collectors of european bikes of these ages and museums. The bike is checked and ready to race! This special Moto Guzzi Bialbero 350 is a practically exact replica produced by the MOTO GUZZI technician Marcellino Sebastiano with top specs and same materials of the real bike.
Extra parts included with the bike
– Rear stand
– Fairing