Honda
CB750
1972
Honda

CB750

1972

€1.800,00

Stock # AMGP712

750cc

67hp – 8.000 rpm

4Strokes – 226 KG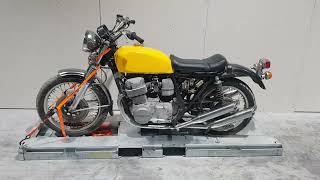 Neil S
Great company easy to deal with many thanks.

750cc
67hp – 8.000 rpm
4Strokes – 226 KG
Information & Specifications
---
Honda CB 750
Engine: Honda
Suspension: Standard
Brakes: Single disk
Wheels: Standard 19 " / Standard 18″
Mileage: n/a Km
Registered: Bill of Sale Only (Private Sale)
Availability: in our store of Barcelona (Spain)
MODEL INFORMATION
The Honda CB750 is an air-cooled, transverse, in-line four-cylinder engine motorcycle made by Honda over several generations for year models 1969–2003.
Though other manufacturers had marketed the transverse, overhead camshaft, inline four-cylinder engine configuration and the layout had been used in racing engines prior to World War II, Honda popularized the configuration with the CB750, and the layout subsequently became the dominant sport bike engine.
Honda of Japan introduced the CB750 motorcycle to the US and European markets in 1969 after experiencing success with its smaller motorcycles. In the late 1960s Honda motorcycles were, overall, the world's biggest sellers and this model was an authentic sucess.
Do you want a Road bike? Our company can get the most exclusive bikes of the market. Only for VIP customers, museums or exclusive collectors! Contact with our team and inform yourself. – RESERVE NOW
In our VIP club you will find the most exclusive race and road bikes, also you can offer your bike for manage the sale. We work with customers to worldwide and we want offer the best service and products.
At Amatumoto Grand Prix Motorbikes, we take pride to have in our stock great exclusive bikes used on the races. That said, we understand that the collector of bikes hobby is enjoyed by some of the most passionate and diverse enthusiasts on the planet.
Detailed Technical Information
---
Frame (VIN): CB750 – 2100046
Engine:

Engine number: n/a
Current Mileage: n/a Km
Last Service: –
Clutch: –
Radiator: –
Exhaust: –

Suspension & Wheels

Front fork: telescopic adjustable fork
Rear shock: Mono shock
Steering damper: –
Front wheel:  3.25 -19″
Rear wheel: 4 -18″

Brakes

Front Brake Master Cyl.: –
Rear Brake Master Cyl.: –
Front Brake Caliper/s: –
Rear Brake Caliper: –
Front Brake Disk/s: 296mm
Rear Brake Disk: 179mm Drum
Electrical & Wiring System: –

ECU: –
Data Acquisition: –
More about this bike: Bike for restored or use as a base project. The bike have european paperwork and we deliver the bike with Bill of Sale. The bike do not have any type of guarantee.
Any doubt about the current status of the bike, contact us.
Extra parts included with the bike
– No