Ducati
Desmosedici
2008
Ducati

Desmosedici

2008

Stock # AMGP689

Ducati D16RR

200 hp – 13.800 RPM

4Strokes – 171 KG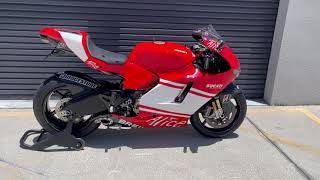 Stuart
Hey Tom, this bike is way better than expected. It's absolutely beautiful! I can't thank you enought!!
Ducati D16RR
200 hp – 13.800 RPM
4Strokes – 171 KG
Information & Specifications
---
Ducati Desmosedici RR 2008  – #0309/1500
Engine: Ducati
Suspension: Ohlins
Brakes: Brembo
Wheels: 17" BST Carbon
Exhaust: Termignoni Full Exhaust
Bike Registered in USA
Mileage:  2.737 miles
Availability: Immediately in Amatumoto USA (Melbourne, FL)
MODEL INFORMATION
In 2001 Ducati caused a great stir by announcing the beginning of the project that would lead to the début of the Desmosedici in the MotoGP championship in 2003.
The bike showed an amazing power, and it was clear that the bike, the brainchild of Filippo Preziosi, had all the elements necessary to launch a winning project. Indeed this intuition became reality when Capirossi won the first historic race at the Catalunya GP in 2003.
The following year, during WDW 2004, Ducati CEO Federico Minoli announced some news that generated great enthusiasm among the fans of the "reds" of Borgo Panigale: in 2006 the production of the street version of the Desmosedici would start: the "Desmosedici RR".
Produced in a limited series of 1,500 motorcycles, today, almost ten years after the end of production, the Desmosedici RR is one of the motorcycles most highly sought by collectors.
Do you want a SBK Road Bike? Our company can get the most exclusive bikes of the market. Only for VIP customers, museums or exclusive collectors! Contact with our team and inform yourself. – RESERVE NOW
In our VIP club you will find the most exclusive race and road bikes, also you can offer your bike for manage the sale. We work with customers to worldwide and we want offer the best service and products.
At Amatumoto Grand Prix Motorbikes, we take pride to have in our stock great exclusive bikes used on the races. That said, we understand that the collector of bikes hobby is enjoyed by some of the most passionate and diverse enthusiasts on the planet.
Detailed Technical Information
---
Frame (VIN): ZDM1ZFW48B000309
Engine: Ducati

Engine number: n/a
Current Mileage: 2.734 miles
Last Service: Oct 2021
Clutch: Ducati
Radiator: Ducati
Exhaust: Termignoni GP

Suspension & Wheels

Front fork: Ohlins FG353P
Rear shock Ohlins PRXB
Steering damper: Ohlins
Front wheel: BST Carbon 17″
Rear wheel: BST Carbon 17″

Brakes

Front Brake Master Cyl.: Brembo
Rear Brake Master Cyl.: Brembo
Front Brake Caliper/s: Brembo
Rear Brake Caliper: Brembo
Front Brake Disk/s: Carbon
Rear Brake Disk: Brembo

Electrical & Wiring System

ECU: Microtec M226 ECU:  allows for better mapping, and improved performance; Engine will idle at 800 rpm allowing for safe engagement of 1st gear when at a complete stop.  ** OEM ECU included **
Data Acquisition: –
More about this bike: Desmosedici RR 2008 nº 00309 in pristine condition and ready to ride. Two owner bike! Previous owners well known to Amatumoto USA; both owners older and mature; no abuse on this D16 RR. Bike has good mileage consistent with routine use which is preferred for preservation of rubber, gaskets and integrity of engine. This is not a garage queen but rather this D16 RR is ready to ride and enjoy. All Ducati factory / warranty updates performed including valves.
Extra parts included with the bike
– Ducati stand
– OEM ECU
– Manuals
– Spare key and data chip
– Ducati Desmosedici RR cover