Ducati
749 RS
2007
Ducati

749 RS

2007

Stock # AMGP623

Engine Ducati

153 hp – 11.900 RPM

4Strokes – 185 KG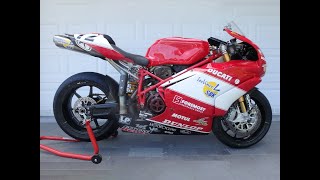 Loren
All perfect! The same that I saw on the photos and descriptions. Great chance!

Engine Ducati
153 hp – 11.900 RPM
4Strokes – 185 KG
Information & Specifications
---
Ducati 749 RS
Engine: Ducati
Suspension: Ohlins
Brakes: Brembo
Wheels: Marchesini 17″
ECU: Magneti Marelli
Exhaust: Leo Vince
Availability: Immediately in our store of USA (FL)
MODEL INFORMATION
1 of 4 Ducati 749 RS built by Ducati Corse factory specifically for AMA Formula Xtreme. Two bikes were delivered to Larry Pegram and two were delivered to Marty Craggill for race this year. Actually, Craggill still owns one, the other is in the hands of a US collector and Boulder Motorsports owns the fourth.
Complete restoration in 2012 by Larry Zullo of MotoCorse Performance. New crank and rod bearings, belts, etc. Fresh brake fluid, multiple hoses replaced. Sand cast RS engine cases in excellent condition.Wiring harness checked, Replaced stator, Dyno tuned for VP U4.4 fuel, 153 HP and 848cc. Suspension serviced by Thermosman. 2013 raced at Daytona with speed 286 km/hr
This is a full RS (Corse) racing motorcycle, built at the Ducati factory. Every part of the motorcycle has RS part number, from the quick disconnect fuel lines to the seat bracket. The bike was also set up with quick change axles and quick fill fuel cap for the Daytona 200, which was an AMA Formula Xtreme race at the time that Pegram was racing the class. Spare 16.5″ Dymag rear wheel with RS brake rotor (floating). Current wheels are 17". Every bolt on the bike is titanium, including bolts on engine side covers.
Magneti Marelli ECU with data logger; ECU cable included for manage the bike.
The bike include 2 sets of bodywork. One unit is Original Pegram bodywork mounted on the bike as raced by Pegram, including AMA tech stickers. and the other is MS Production Carbon Fiber, specific to the RS (Large Ram Air ducts) with custom paint livery. The front fork and calipers are not the same model that used Pegram during the last races of the season because He removed for use in 2008 season.
Is included also 2016 cylinder heads were rebuilt with new set of RS cams ( direct from Ducati factory ) since then has approximately 100 km.
Do you want a SBK Race bike? Our company can get the most exclusive bikes of the market. Only for VIP customers, museums or exclusive collectors! Contact with our team and inform yourself. – RESERVE NOW
In our VIP club you will find the most exclusive race and road bikes, also you can offer your bike for manage the sale. We work with customers to worldwide and we want offer the best service and products.
At Amatumoto Grand Prix Motorbikes, we take pride to have in our stock great exclusive bikes used on the races. That said, we understand that the collector of bikes hobby is enjoyed by some of the most passionate and diverse enthusiasts on the planet.
Detailed Technical Information
---
Frame (VIN): Ducati 749RS factory frame (no serial number)
Engine: Ducati

Engine number: 0B36000743
Current Mileage: – Km
Last Service: 120 Km
Clutch: Dry
Radiator: –
Exhaust: Leo Vince

Suspension & Wheels

Front fork: Ohlins
Rear shock Ohlins
Steering damper: Ohlins
Front wheel: Marchesini 17″
Rear wheel: Marchesini 17″

Brakes

Front Brake Master Cyl.: Brembo
Rear Brake Master Cyl.: Brembo
Front Brake Caliper/s: Brembo
Rear Brake Caliper: Brembo
Front Brake Disk/s: Brembo
Rear Brake Disk: Brembo

Electrical & Wiring System

ECU: Magneti Marelli
Data Acquisition: Magneti Marelli
More about this bike: Bike in good condition and ready to race.
Extra parts included with the bike
– Rear stand
– Magneti Marelli ECU cable
– 16.5″ Dymag rear wheel with RS brake rotor (floating)
– 1 Set of Bodywork
– 1 Set of Cylinder Heads