Ducati
996 SPS
1999
Ducati

996 SPS

1999

Stock # AMGP622

Engine Ducati

123 hp – 9500 RPM

4Strokes – 190 KG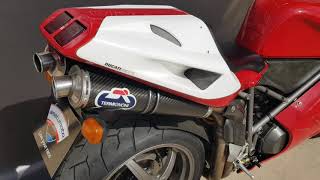 Engine Ducati
123 hp – 9500 RPM
4Strokes – 190 KG
Information & Specifications
---
Ducati 996 SPS
Engine: Ducati
Suspension: Ohlins
Brakes: Brembo
Wheels: Marchesini 17″
Mileage: 40.828 Km
Registered: No registered – Only bill of sale.
Availability: in our store of Barcelona (Spain)
MODEL INFORMATION
The 996SPS suffix stood for 'Sport Production Special'. The engine was the same as the one used in the 916SPS but the weight was cut down considerably. The 996SPS produced around 92.4 kW (124 bhp), more than the standard 996. The 996's special SPS engine was much stronger than anything that Ducati or any other manufacturer at the time had produced for the track. To ensure a distance was held between the standard 996 and the 996SPS Ducati designed a much higher specification chassis for the SPS. The wheels were a five spoke design but were lighter than the standard three spoke design of the 916 and the early 996. In 1999 the rear shocks were made by high quality Swedish suspensions manufacturer, Öhlins with Showa front forks. In 2000 Öhlins forks were added. The adjustable steering head also allowed geometry changes to the steel tube trellis frame making it suitable for different riding styles or race tracks.
Do you want a Road bike? Our company can get the most exclusive bikes of the market. Only for VIP customers, museums or exclusive collectors! Contact with our team and inform yourself. – RESERVE NOW
In our VIP club you will find the most exclusive race and road bikes, also you can offer your bike for manage the sale. We work with customers to worldwide and we want offer the best service and products.
At Amatumoto Grand Prix Motorbikes, we take pride to have in our stock great exclusive bikes used on the races. That said, we understand that the collector of bikes hobby is enjoyed by some of the most passionate and diverse enthusiasts on the planet.
Detailed Technical Information
---
Frame (VIN): 1140
Engine:

Engine number: –
Current Mileage: 40.828 Km
Last Service: 700 Km
Clutch: –
Radiator: –
Exhaust: Termignoni

Suspension & Wheels

Front fork: Ohlins
Rear shock: Ohlins
Steering damper: Ducati
Front wheel: Marchesini 17″
Rear wheel: Marchesini 17″

Brakes

Front Brake Master Cyl.: Brembo
Rear Brake Master Cyl.: Brembo
Front Brake Caliper/s: Brembo
Rear Brake Caliper: Brembo
Front Brake Disk/s: Brembo
Rear Brake Disk: Brembo

Electrical & Wiring System

ECU: Ducati
Data Acquisition: –
More about this bike: Bike in correct condition and ready to run. The bike was maintained by specialists of Ducati  by all owners of the past. Since the last maintenance only was used around 700 Km.
Extra parts included with the bike
– No