Condition: Used
Seller: Private Partly
Location: Spain
New arrival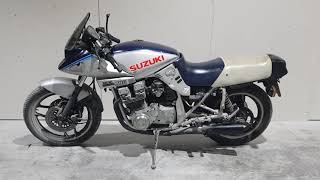 Auction info:
Auction ends: Mar 9, 2023
Time left:
Auction item did not make it to reserve price
Reserve price: has not been met
you must login to place a bid
Condition: Used
Seller: Private Partly
Location: Spain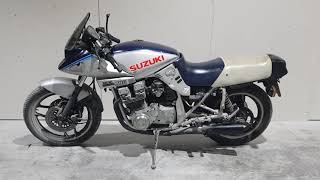 Jorge
It was an amazing experiencie
Information & Specifications
---
Suzuki GSX750SD KATANA
Engine: Suzuki
Suspension: Standard
Brakes: Twin disk
Wheels: Standard 16 " / Standard 17″
Mileage: 58.480 Km
Registered: Bill of Sale Only
Availability: in our store of Barcelona (Spain)
MODEL INFORMATION
When Suzuki released the radical Katana at the end of 1981 for the 1982 Model Year it was originally available in 1100, 1000 (for the US), 750, 650 and 550cc versions. The GSX750SZ Katana was based on the GSX750E and Suzuki claimed it to be the fastest 750cc production bike available in 1982.
While the four-valve GSX750E engine was already no slouch, for the 750 Katana Suzuki's engineers lightened the valve train, removed some weight from the flywheel, installed new cams, improved the valve seats, fitted a new inductive ignition, larger 34mm Mikuni CV carburettors and a new four-into two black chrome exhaust system. Although the one-piece crank and bore and stroke of 67x53mm were unchanged the higher compression (9.8:1) pistons received new rings. The 747cc four produced 81 horsepower at 9,200rpm. The 750 Katana shared its frame and suspension with the 1100, including the 1,520mm wheelbase and 28.5-degree steering rake. The 750's cast wheels were 19-inch on the front and a slightly narrower 2.15×17-inch on the rear. At 228kg the 750 weighed 5kg less than the 1100 and visually only the single colour blue vinyl seat distinguished the 750 Katana from the 1100 with its two-tone seat. As a sports bike the 750 Katana was outstanding, offering European-style handling with Japanese power and useability. The Katana has now earned a cult status, and while style may have predominated over function that hasn't diminished its appeal. The Katana remains a tribute to an era when motorcycle manufacturers were prepared to stretch the boundaries, unleashing outlandish machines on an unsuspecting public without any guarantee of commercial success. The Katana didn't sell in vast quantities, but it is now considered one of the most memorable and collectable Suzuki's of the 1980s.
Do you want a Road bike? Our company can get the most exclusive bikes of the market. Only for VIP customers, museums or exclusive collectors! Contact with our team and inform yourself. – RESERVE NOW
In our VIP club you will find the most exclusive race and road bikes, also you can offer your bike for manage the sale. We work with customers to worldwide and we want offer the best service and products.
At Amatumoto Grand Prix Motorbikes, we take pride to have in our stock great exclusive bikes used on the races. That said, we understand that the collector of bikes hobby is enjoyed by some of the most passionate and diverse enthusiasts on the planet.
Detailed Technical Information
---
Frame (VIN): GR71A-105634
Engine:

Engine number: R701-106734
Current Mileage: 58.480 Km (certified mileage – unknow)
Last Service: –
Clutch: –
Radiator: –
Exhaust: –

Suspension & Wheels

Front fork: telescopic
Rear shock: Mono shock
Steering damper: –
Front wheel:  3.25 -16″
Rear wheel: 4 -17″

Brakes

Front Brake Master Cyl.: –
Rear Brake Master Cyl.: –
Front Brake Caliper/s: –
Rear Brake Caliper: –
Front Brake Disk/s: 275mm
Rear Brake Disk: 255mm
Electrical & Wiring System: –

ECU: –
Data Acquisition: –
More about this bike: Bike for restored or use as a base project. The bike have european paperwork and we deliver the bike with Bill of Sale. The bike do not have any type of guarantee.
Any doubt about the current status of the bike, contact us.
Extra parts included with the bike
– No
Neil S
Great company easy to deal with many thanks.