Suzuki
GSXR750 K
1989
Suzuki

GSXR750 K

1989

Stock # AMGP677

Private Party

Engine Suzuki

4Strokes – 195 KG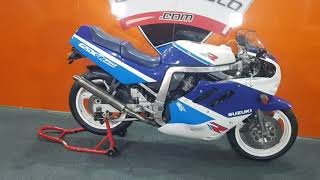 Georges
Highly recommend these guys. Top marks. I recently bought a motorcycle by email and phone only. The bike arrived exactly as described. Shipping was arranged perfectly and the bike arrived with no issues. These guys and gals take pride in what they do. Buy with confidence a rare thing these days.

Private Party
Engine Suzuki
4Strokes – 195 KG
Information & Specifications
---
Suzuki GSXR 750 K
Engine: Suzuki
Suspension: Suzuki
Brakes: Nissin
Wheels: Original 17″
Mileage: 47.213 Km
Registered: Registered in Spain
Availability: in our store of Barcelona (Spain)
MODEL INFORMATION
The Suzuki GSXR 750 was one of the most important sport bike  of the GSXR series from the Japanese manufacturer Suzuki in 1989. It remained largely unchanged through its production. New chassis design, engine revisions and body work. Introduction of a new short-stroke version of the oil-cooled engine, now displacing 748 cc. Engine had 73 mm bore and 44.7 mm stoke and could achieve higher engine speeds (13,000 rpm redline indicated, but rev limited engaged at 12,500 according to the Suzuki shop manual). Internal engine dimensions changed to accommodate the new bore and stroke. This engine used larger valves and carburetors than previous years. Mikuni model BST36SS carbs were 36 mm diameter and featured vacuum operated slides. The slide cross section resembled the shape of a slingshot. A four spring clutch was used on the short stroke motor . New styling, and twin black silencers. Wheels were now a 17-inch (430 mm) diameter, three spoke design and used a 160/60VR17 in the rear and 120/70VR17 in the front. Slingshot graphic first appeared on the bodywork. Forks now used a cartridge design and were 43 mm in diameter. The second generation model was heavier than the first but had a stiffer frame and more power.
The 1988 Suzuki GSX-R750 was examined and changed, from the engine to the chassis: The fairing was redesigned for 5.7% less frontal projection and 11% lower drag. Shortened 1400mm wheelbase, lightweight aluminium alloy frame with 45mm box tube main section and the cast swing arm pivot offered 60% more ridity. Front fork stanchion tubes were increased to 43mm diameter with variable damper adjuster type inner rods. Full floating rear suspension with new linkage and needle bearings for smoothness. Opposed 4 piston brake calipers, new weight-saving hollow-typecast wheels and wide Michelin radial tyres.
The distinctive air-cooled with SACS engine received larger diameter oil hose and less restrictive joints for 20% increase in the coolant flow and the large 15 row cooler improved the cooling efficiency by 48%. The red line started at 13,000 rpm. Engine bore and stroke changed from the previous 70 x 48.7mm to shorter stroke 73 x 44.7mm to reduce reciprocating motion mechanical loss.
The new Slingshot carburetors were equipped with lightweight throttle valves for increased throttle responsiveness. Another important addition was the incorporation of SACI (Suzuki Condensed Air Intake) system bringing fresh air from ducts on the front of the fairing to the carburetor intake for maximizing cylinder charging efficiency.
1989 brought about minor changes such as: Modified lower bodywork, changes to graphics and silver exhaust silencers, the exhaust manifold now featured small chamfers on the collector for increased ground clearance, change to the rear shock mounting geometry and front fork length to improve ground clearance. Gear ratio revisions in 3rd, 4th and 5th gears offered improved power control and secondary gear ratio was lowered, together with 5mm increase in the wheelbase, all combining for better sports riding on highways. The brake master cylinder controlled the 4 piston brake calipers featured four-way adjustability. The SACS acronym decal, located on the lower body work of the blue/white models, changed from a diagonal lettering to a straight lettering.
Do you want a Road bike? Our company can get the most exclusive bikes of the market. Only for VIP customers, museums or exclusive collectors! Contact with our team and inform yourself. – RESERVE NOW
In our VIP club you will find the most exclusive race and road bikes, also you can offer your bike for manage the sale. We work with customers to worldwide and we want offer the best service and products.
At Amatumoto Grand Prix Motorbikes, we take pride to have in our stock great exclusive bikes used on the races. That said, we understand that the collector of bikes hobby is enjoyed by some of the most passionate and diverse enthusiasts on the planet.
Detailed Technical Information
---
Frame (VIN): GR77A – 105944
Engine:

Engine number: –
Current Mileage: 47.213 Km
Last Service: n/a
Clutch: –
Radiator: –
Exhaust: –

Suspension & Wheels

Front fork: –
Rear shock: –
Steering damper:
Front wheel: Original 17″
Rear wheel: Original 17″

Brakes

Front Brake Master Cyl.: –
Rear Brake Master Cyl.: –
Front Brake Caliper/s: Nissin
Rear Brake Caliper: –
Front Brake Disk/s: –
Rear Brake Disk: –

Electrical & Wiring System

ECU: Suzuki
Data Acquisition: –
More about this bike: The bike was stopped some years in a particular garage and need be serviced (rebuild/restoration). Currently is working and the engine seems ok, however the carburation it's not ok for a good road performance. Is a really good base for use as a race bike or restoration project. If you need more photos and information about any part of the bike let us know. Bike registered in Spain with clean paperwork. We offer a good price according the current status of the bike.
Extra parts included with the bike
– No