Condition: Used
Seller: Private Party
Location: Europe
New arrival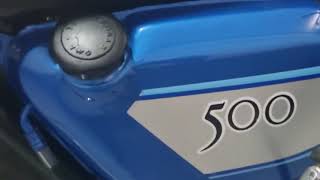 Auction info:
Auction ends: Oct 7, 2022
Time left:
Auction item did not make it to reserve price
Reserve price: has not been met
you must login to place a bid
Condition: Used
Seller: Private Party
Location: Europe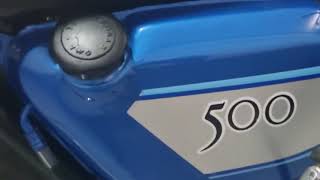 Stuart
Hey Tom, this bike is way better than expected. It's absolutely beautiful! I can't thank you enought!!
Information & Specifications
---
Kawasaki H1 500 1971
Engine: Kawasaki
Suspension: Standard
Brakes: Single Disk/Drum
Wheels: Spokes
Mileage: 23.200 Km
Registered: Bill of Sale only.
Availability: in our store of Barcelona (Spain)
MODEL INFORMATION
The Akashi manufacturer presented the Kawasaki H1 Match III in 1969, a very important motorcycle for this age thanks to the three-cylinder 500 cm3 two-stroke engine.
At that time, the United States was the largest motorcycle market in the world, and the consumers of those times demanded one thing mainly: more power. And there was Kawasaki to bring the answer. The Kawasaki H1 Match III came to be the successor of the Kawasaki W2, the only motorcycle that the green manufacturer sold in the USA with a four-stroke engine and that had not just started in sales, despite the fact that in its Japan it was sold a lot.
It was clear that Kawa needed something with more punch for the American buyer and they came up with a new bike with a 500 2T engine as the main claim. A mechanic that delivered 60 hp at 7,500 laps and a torque of 56 Nm at 7,000 rpm thanks to its bank of three 28 mm Mikuni carburettors. With its 5-ratio gearbox, it was capable of reaching a top speed of 200 km/h.
It had some technical innovations for the time, such as the CDI ignition, which avoided the cumbersome points and all the maintenance associated with them. Where it was not so advanced was in the start-up, since the bike started with cam.
The power was not much higher than the 53 CV that its 4T predecessor delivered, but only because of the touch, the rage and the acceleration of the 2T mechanics, that extra sensation and reprise that was being sought was achieved.
In terms of suspension, it had the classic telescopic fork on the front axle and a pair of shock absorbers at the rear. Simple components and modest performance.
Do you want a Road bike? Our company can get the most exclusive bikes of the market. Only for VIP customers, museums or exclusive collectors! Contact with our team and inform yourself. – RESERVE NOW
In our VIP club you will find the most exclusive race and road bikes, also you can offer your bike for manage the sale. We work with customers to worldwide and we want offer the best service and products.
At Amatumoto Grand Prix Motorbikes, we take pride to have in our stock great exclusive bikes used on the races. That said, we understand that the collector of bikes hobby is enjoyed by some of the most passionate and diverse enthusiasts on the planet.
Detailed Technical Information
---
Frame (VIN): KAF23880
Engine:

Engine number: 374-102906
Current Mileage: 23.200 Km
Last Service: 0 Km (fully restored)
Clutch: –
Radiator: –
Exhaust: –

Suspension & Wheels

Front fork: Telescopic hydraulic fork
Rear shock: Dual shock
Steering damper:
Front wheel: Original 19″
Rear wheel: Original 18″

Brakes

Front Brake Master Cyl.: –
Rear Brake Master Cyl.: –
Front Brake Caliper/s: –
Rear Brake Caliper: –
Front Brake Disk/s: Single 296mm
Rear Brake Disk: Drum 180mm

Electrical & Wiring System

ECU: –
Data Acquisition: –
More about this bike: The bike was stopped some years in a particular garage and needed be serviced. The last owner bought this bike in UK and do a complete restoration of rolling chassis and engine. Currently is fully restored and ready for the road. We deliver the bike only with bill of sale – is not registered/no plate in Europe –
Extra parts included with the bike
– No
Rens.
Top seller! Bought a GP moto2 front wheel in perfect condition and very fast shipping to the netherlands! Will do business again in the future.