Horex
500
1954
Horex

500

1954

€68.000,00

Stock # AMGP690

Engine Horex

45 hp – 7.800 RPM

4Strokes – 200 KG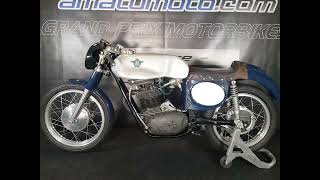 Stuart
Hey Tom, this bike is way better than expected. It's absolutely beautiful! I can't thank you enought!!
Engine Horex
45 hp – 7.800 RPM
4Strokes – 200 KG
Information & Specifications
---
Schnell-Horex 500
Engine: Horex
Suspension: Horex/Ceriani
Brakes: Horex twin lever
Wheels: Aluminium
ECU: n/a
Exhaust: n/a
Availability: Inmediately in our store of Amatumoto Europe (Spain)
MODEL INFORMATION
Roland Schnell, who won the German 350 championship in 1951 on a modified Parilla, designed and built these racing machines using Horex OHC engines of 248, 348 and 498cc, the 350cc machine proving particularly competitive. Schnell and Horex dealer Herman Gablenz formed a company which produced some twelve machines over its short lifespan. Riders included Gablenz, H.P. Müller, Robert Zeller, Georg Braun, Erwin Aldinger and Fritz Kläger.
Do you want a Classic GP? Our company can get the most exclusive bikes of the market. Only for VIP customers, museums or exclusive collectors! Contact with our team and inform yourself. – RESERVE NOW
In our VIP club you will find the most exclusive race and road bikes, also you can offer your bike for manage the sale. We work with customers to worldwide and we want offer the best service and products.
At Amatumoto Grand Prix Motorbikes, we take pride to have in our stock great exclusive bikes used on the races. That said, we understand that the collector of bikes hobby is enjoyed by some of the most passionate and diverse enthusiasts on the planet.
Detailed Technical Information
---
Frame (VIN): **005**
Engine: Horex

Engine number:  **005**
Current Mileage: n/a
Last Service: 100 km since last service
Clutch: n/a
Radiator: –
Carburettor: Dellorto SSI 40
Exhaust: n/a

Suspension & Wheels

Front fork: Horex
Rear shock: Ceriani
Steering damper: n/a
Front wheel: Aluminium 19″
Rear wheel: Aluminum 18″

Brakes

Front Brake Master Cyl: n/a
Rear Brake Master Cyl: n/a
Front Brake Caliper/s: Horex Twin lever
Rear Brake Caliper: Horex
Front Brake Disk/s: n/a
Rear Brake Disk: n/a

Electrical & Wiring System

ECU: –
Data Acquisition: –
More about this bike: Schnell-Horex 500 checked and working condition. This special bike of the 50's is equipped with the last version of swing fork developed for this model and electronic ignition uptdated at rebuild the engine.
Extra parts included with the bike
– Rear stand