Condition: Used
Engine IZH
42 hp – 10.000 RPM
2Strokes – 135 KG
New arrival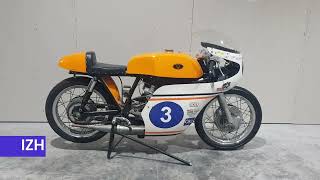 Auction info:
Auction ends: Sep 29, 2023
Time left:
Auction Ended
Reserve price: has not been met
you must login to place a bid
Condition: Used
Engine IZH
42 hp – 10.000 RPM
2Strokes – 135 KG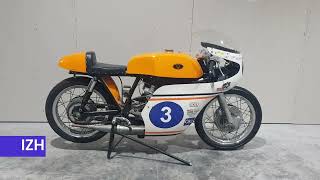 Sam
I had a huge smile on my face when I opened the crate of the bike! Is the best bike that I purchased! Is fantastic! I purchased my bike only by photos and by the recommendations of another friend collectors. The Amatumoto Team helped me at all times and organized everything easily and simply to receive the bike in my house. Bike and parts in crate, fully protected and in the best conditions. The best site for purchase a race bike! They will never cheat you.

Information & Specifications
---
IZH Jupiter 1975
Engine: IZH
Suspension: Original
Brakes: Fontana
Wheels: Spokes Akront 18″
ECU: –
Exhaust: Corse
Availability: Immediately in our store of Barcelona (Spain)
MODEL INFORMATION
Izhevsk Steel Works is a very large russian factory of metal products like cars, motorcycles, weapons, etc. The most famous (infamous?) product is the Avtomat Kashnikov mod. 1947, AK-47.
The factory produced road bikes and race bikes with the brand name IZH. Also upgraded bikes with specials parts of titanium.
Estonian Vihur team build upgraded Izh-based client racer bikes.The normal production road motorcycle, from which the basic engine was taken is called "Jupiter", this name is also often used on the racing versions. These bikes was a copy of the Yamaha TZ250/350.
Do you want a Classic Race bike? Our company can get the most exclusive bikes of the market. Only for VIP customers, museums or exclusive collectors! Contact with our team and inform yourself. – RESERVE NOW
In our VIP club you will find the most exclusive race and road bikes, also you can offer your bike for manage the sale. We work with customers to worldwide and we want offer the best service and products.
At Amatumoto Grand Prix Motorbikes, we take pride to have in our stock great exclusive bikes used on the races. That said, we understand that the collector of bikes hobby is enjoyed by some of the most passionate and diverse enthusiasts on the planet.
Detailed Technical Information
---
Frame (VIN): IZH Jupiter 1975 SH12
Engine: IZH

Engine number: –
Current Mileage: n/a Km
Last Service: Uknow Km
Clutch: –
Radiator: –
Exhaust: Corse

Suspension & Wheels

Front fork: Original
Rear shock: Original
Steering damper: –
Front wheel: Spokes Akront 18″
Rear wheel: Spokes Akront 18″

Brakes

Front Brake Master Cyl.: n/a
Rear Brake Master Cyl.: n/a
Front Brake Caliper/s: Fontana
Rear Brake Caliper: Fontana
Front Brake Disk/s: n/a
Rear Brake Disk: n/a

Electrical & Wiring System

ECU: –
Data Acquisition: –
More about this bike: Bike in good condition by the age and working.
Extra parts included with the bike
– No