Kalex
Moto2
2018
Kalex

Moto2

2018

Stock # AMGP624

Engine Honda

130 hp – 15.900 RPM

4Strokes – 145 KG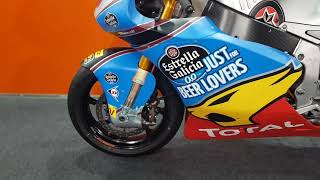 Georges
Highly recommend these guys. Top marks. I recently bought a motorcycle by email and phone only. The bike arrived exactly as described. Shipping was arranged perfectly and the bike arrived with no issues. These guys and gals take pride in what they do. Buy with confidence a rare thing these days.

Engine Honda
130 hp – 15.900 RPM
4Strokes – 145 KG
Information & Specifications
---
Kalex Moto2 2018 – Used in 2018 Moto2 Season by Alex Marquez
Engine: Honda
Suspension: Ohlins
Brakes: Brembo
Wheels: OZ 17″
ECU: HRC
Exhaust: SC-Project
Availability: Inmediately in our store of Barcelona (Spain)
MODEL INFORMATION
The Kalex Moto2 is a four-stroke race motorcycle developed for the World Championship of Moto2.
In 2010, with the introduction of the new 600 cc Moto2 class using controlled Honda engines, Kalex Engineering began providing its chassis to the Pons Racing team. Stefan Bradl became the first rider to achieve a world title using a Kalex chassis when he won the 2011 Moto2 World Championship.
Kalex won the Manufacturers Championship in 2013 Moto2 season when teams using their chassis finished in the top four places in the Championship. In 2015, Kalex riders won all but one race, and took the top three places and nine of the top ten places in the overall standings. Riders using the Kalex chassis dominated the 2016/2017 and 2018 Moto2 season. Following the change in Moto2 engine supply by Triumph from 2019.
Do you want a Moto2 bike? Our company can get the most exclusive bikes of the market. Only for VIP customers, museums or exclusive collectors! Contact with our team and inform yourself. – RESERVE NOW
In our VIP club you will find the most exclusive race and road bikes, also you can offer your bike for manage the sale. We work with customers to worldwide and we want offer the best service and products.
At Amatumoto Grand Prix Motorbikes, we take pride to have in our stock great exclusive bikes used on the races. That said, we understand that the collector of bikes hobby is enjoyed by some of the most passionate and diverse enthusiasts on the planet.
Detailed Technical Information
---
Frame (VIN): Kalex Moto2 – M09
Engine: Honda Moto2

Engine number:  n/a
Current Mileage: 750 Km
Last Service: 750 Km
Clutch: FCC
Radiator: Taleo
Exhaust: SC-Project

Suspension & Wheels

Front fork: Ohlins
Rear shock Ohlins
Steering damper: Ohlins
Front wheel: OZ – 17″
Rear wheel: OZ – 17″

Brakes

Front Brake Master Cyl.: Brembo
Rear Brake Master Cyl.: Brembo
Front Brake Caliper/s: Brembo
Rear Brake Caliper: Brembo
Front Brake Disk/s: Yutaka
Rear Brake Disk: Brembo

Electrical & Wiring System

ECU: Honda HRC
Data Acquisition: 2D Data Recording
More About this bike: Original Kalex Moto2 Alex Marquez of the 2018 season. Bike checked in correct condition and ready to race. We include certify of Authenticity of the bike and racing history. This amazing bike include top components like suspensions Ohlins, Brembo brakes, 2D data acquisition, SC- Project Exhausts and Oz Wheels. The front master cylinder fitted will be changed before deliver the bike by the CNC model, during the photoshoot we mounted this standard model because the Team needed the other unit due the production delay of Brembo. For more information of the bike contact with our sales dept.
Extra parts included with the bike
– Rear stand
– Other parts on demmand by an extra price. Amatumoto have available in stock the Kalex parts that you need.