Norton
Manx 30M
1962
Norton

Manx 30M

1962

Stock # AMGP724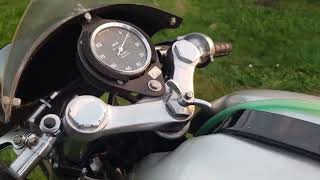 Sam
I had a huge smile on my face when I opened the crate of the bike! Is the best bike that I purchased! Is fantastic! I purchased my bike only by photos and by the recommendations of another friend collectors. The Amatumoto Team helped me at all times and organized everything easily and simply to receive the bike in my house. Bike and parts in crate, fully protected and in the best conditions. The best site for purchase a race bike! They will never cheat you.

Information & Specifications
---
Norton Manx 30M
Engine: Norton
Suspension: Original
Brakes: Original
Wheels: Spokes Akront
ECU: –
Exhaust: Megaphone
Availability: in our headquarter of Barcelona (Spain – Europe)
Detailed Technical Information
---
Frame (VIN): 86400
Engine: Norton

Engine number:  RM11 – 86400
Current Mileage: 250 Km – since complete restoration.
Last Service: 250 Km
Clutch: –
Radiator: –
Exhaust: Original

Suspension & Wheels

Front fork: Original
Rear shock: Original
Steering damper: –
Front wheel: Spokes 19″
Rear wheel: Spokes 18″

Brakes

Front Brake Master Cyl.: n/a
Rear Brake Master Cyl.: n/a
Front Brake Caliper/s:
Rear Brake Caliper:
Front Brake Disk/s: n/a
Rear Brake Disk: n/a

Electrical & Wiring System

ECU: –
Data Acquisition: –
More about this bike: Bike in very good condition and ready to run. The bike was rebuild by specialists of Norton bikes respecting the code colours and replacement original. Since the restoration only have 250 Km, was used in a classic parade by the last owner and never more used. The first owner based in north Europe change the levers system (brake-gear) to use as normal race bikes of this era.
Extra parts included with the bike
– No