Honda
NSF250R
2016
Honda

NSF250R

2016

Stock # AMGP637

Engine Honda

47 hp – 13.000 RPM

4Strokes – 84 KG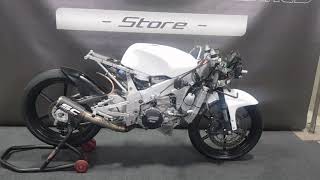 Lisa
We trust in Amatumoto Grand Prix for sell many bikes. Serious and trust company! Fully recommended! They arrange the consigment, professional photo shoot, manage of the sale, etc. All payments of the benefits correctly..

Engine Honda
47 hp – 13.000 RPM
4Strokes – 84 KG
Information & Specifications
---
Honda NSF250R
Engine: Honda
Suspension: Showa
Brakes: Nissin/Brembo
Wheels:  Aluminium 17″
ECU: HRC
Exhaust: SC Project
Availability: Immediately in our store of Barcelona (Spain)
MODEL INFORMATION
The Honda NSF250R is a four-stroke race motorcycle from HRC (Honda Racing Corporation) developed for Moto3 class. This model is a client bike destinated to learn and used on a lot of Championship cups.
Do you want a Moto3? Our company can get the most exclusive bikes of the market. Only for VIP customers, museums or exclusive collectors! Contact with our team and inform yourself. – RESERVE NOW
In our VIP club you will find the most exclusive race and road bikes, also you can offer your bike for manage the sale. We work with customers to worldwide and we want offer the best service and products.
At Amatumoto Grand Prix Motorbikes, we take pride to have in our stock great exclusive bikes used on the races. That said, we understand that the collector of bikes hobby is enjoyed by some of the most passionate and diverse enthusiasts on the planet.
Detailed Technical Information
---
Frame (VIN): NSF 250 R
Engine: Honda

Engine number:  n/a
Current Mileage: 0 Km since last service
Last Service: 0Km
Clutch: HRC
Radiator: HRC
Exhaust: SC Project

Suspension & Wheels

Front fork: Showa
Rear shock: Showa
Steering damper: HRC
Front wheel: Aluminium 17″
Rear wheel: Aluminium 17″

Brakes

Front Brake Master Cyl.: Brembo
Rear Brake Master Cyl.: HRC
Front Brake Caliper/s: Nissin
Rear Brake Caliper: HRC
Front Brake Disk/s: HRC
Rear Brake Disk: HRC

Electrical & Wiring System
More about this bike: Bike in very good condition and ready to race. The engine was fully serviced and have 0 km on the track at this moment.
Extra parts included with the bike
– Stand
– Other parts on demand.