Yamaha
R1 Ashton Yates
2019
Yamaha

R1 Ashton Yates

2019

Stock # AMGP634

Engine Yamaha

+200 hp – 15.900 RPM

4Strokes – 165 KG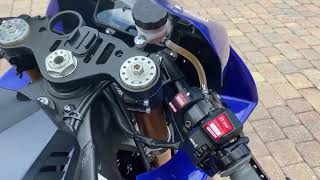 Neil L.
Bought a dream bike without seeing it based on the descriptions and information offered by JuanPe and his team. Amazing service and a dream transaction, a business which gives you complete confidence, a rare thing these days!! Highly recommended 5******** 
Engine Yamaha
+200 hp – 15.900 RPM
4Strokes – 165 KG
Information & Specifications
---
Yamaha R1 Stock MotoAmerica Ashton Yates 2019
Engine: Yamaha
Suspension: Ohlins
Brakes: Stock/Galaspeed
Wheels: Stock Magnesium 17″
ECU: 2019 Yamaha Race Kit ECU & Wiring harness
Exhaust: Graves full titanium system
Availability: Inmediately in our store of USA (Melbourne-FL)
MODEL INFORMATION
2018 Yamaha YZF-R1 Moto America Stock 1000 Bike. This bike was ridden by Ashton Yates for the last few rounds of the 2019 Motoamerica Stock 1000 class and a consistent front runner and podium finisher. Bike was bought new off the showroom in March of 2019. The bike was built and maintained by Vic Fasola, Tuned at KWS 204 wheel horsepower. Bike ready to race and clear title.
Do you want a SBK bike? Our company can get the most exclusive bikes of the market. Only for VIP customers, museums or exclusive collectors! Contact with our team and inform yourself. – RESERVE NOW
In our VIP club you will find the most exclusive race and road bikes, also you can offer your bike for manage the sale. We work with customers to worldwide and we want offer the best service and products.
At Amatumoto Grand Prix Motorbikes, we take pride to have in our stock great exclusive bikes used on the races. That said, we understand that the collector of bikes hobby is enjoyed by some of the most passionate and diverse enthusiasts on the planet.
Detailed Technical Information
---
Frame (VIN): #2018#
Engine: Yamaha R1

Engine number:  n/a
Current Mileage: 2233 Miles
Last Service: at 2150 Miles
Clutch: n/a
Radiator: n/a
Exhaust: Graves full titanium system

Suspension & Wheels

Front fork: Ohlins FKR gas pressurized cartridges
Rear shock Ohlins TTX GP
Steering damper: Ohlins
Front wheel: Stock Magnesium 17″
Rear wheel: Stock Magnesium 17″

Brakes

Front Brake Master Cyl.: Galaspeed
Rear Brake Master Cyl.: n/a
Front Brake Caliper/s: n/a
Rear Brake Caliper: n/a
Front Brake Disk/s: n/a
Rear Brake Disk: n/a

Electrical & Wiring System

ECU: Yamaha CCU data logger with GPS
Data Acquisition: 2019 Yamaha Race Kit ECU & Wiring harness
More about this bike: Yamaha Race Kit ECU and harness, Yamaha CCU data logger/GPS lap timer, BMC Race air filter, Carbon Fiber Race upper fairing bracket, Ignition delete, Ohlins Steering damper, Fast Frank captive rear caliper bracket, Captive front axle nut, Captive wheel spacers, GP Rear Stand Lifters, Evol Front brake lever guard, Renthal Grips, Renthal Sprockets, DID ERv3 chain, Carbon Fiber Shark Guard, Lightech Fuel cap, GB Racing Case covers, Woodcraft Rearsets, Woodcraft Handlebars, Galespeed Front Master cylinder, Folding Brake lever, Shorai Lithium light weight battery, Graves Full Ti Exhaust, Core moto Brake lines, Radiator/Oil cooler guards, Ohlins ttx rear shock, Ohlins FKR Gas Pressurized cartridges, Rain light, Armor Bodies bodywork, SE Composites tank shroud.
Extra parts included with the bike
– Rear stand
– Set of wheels F+R