Montesa
RAPITA 250
1974
Montesa

RAPITA 250

1974

Stock # AMGP704

Engine Montesa

38 hp – 8.500 RPM

2Strokes – 100 KG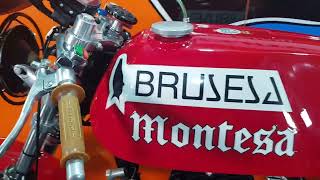 Jorge
It was an amazing experiencie
Engine Montesa
38 hp – 8.500 RPM
2Strokes – 100 KG
Information & Specifications
---
Montesa Rapita 250 – Evoluzione "Impala"
Engine: Montesa
Suspension: Telesco
Brakes: Ceriani
Wheels: Akront 18″
ECU: n/a
Exhaust: n/a
Availability: Inmediately in our store of Amatumoto Europe (Spain)
MODEL INFORMATION
The Montesa Rapita 250 mounted road tires and fenders along with finishes that gave it a certain air of a mid-range Japanese mount, and was designed for the North American market. The spanish teams used this model as a base to build a very competitive race bike on the race GP's and Endurance class. A lot of modifications were done on these bikes before be ready to the track. The engines was performance modifying the cylinder head, transfers, exhauust, admision, carburettor and gearbox (closed ratio 5 gears). The rolling chassis was improved with reinforcements on the main frame, ceriani brakes, suspensions from telesco, fuel tank high volume and aluminium rims signed by the manufacturer Akront.
This is the authentic Montesa Rapita 250 used on the 24 Hours of Montjuich with Josep Coronilla and JL Boquet.
– Two-time champion of Spain in the 24 Hours of Montjuich 1974.
– Total lap record in 250cc.
– Champion in 1976 with Josep Coronilla and Boquet.
The racing history and pedigree is notarized and registered with the mentioned achievements.
Do you want a Classic GP? Our company can get the most exclusive bikes of the market. Only for VIP customers, museums or exclusive collectors! Contact with our team and inform yourself. – RESERVE NOW
In our VIP club you will find the most exclusive race and road bikes, also you can offer your bike for manage the sale. We work with customers to worldwide and we want offer the best service and products.
At Amatumoto Grand Prix Motorbikes, we take pride to have in our stock great exclusive bikes used on the races. That said, we understand that the collector of bikes hobby is enjoyed by some of the most passionate and diverse enthusiasts on the planet.
Detailed Technical Information
---
Frame (VIN): 44M1433
Engine: Montesa 250cc

Engine number: 44M1433
Current Mileage: n/a
Last Service: 250 km since last service
Clutch: n/a
Radiator: –
Carburettor: Bing 36
Exhaust: n/a

Suspension & Wheels

Front fork: Telesco
Rear shock: Telesco
Steering damper: n/a
Front wheel: Aluminium 18″
Rear wheel: Aluminum 18″

Brakes

Front Brake Master Cyl: –
Rear Brake Master Cyl: –
Front Brake Caliper/s: Ceriani 4 levers
Rear Brake Caliper: Montesa GP
Front Brake Disk/s: n/a
Rear Brake Disk: n/a

Electrical & Wiring System

ECU: –
Data Acquisition: –
More about this bike: Montesa Rapita 250 GP in good condition and ready to race. Original bike of 1974 with registered racing history notarized. All components and engine full serviced (museum condition). Bike can be signed on demand by the riders of the era Josep Coronilla and J.L Boqet.
Extra parts included with the bike
– Rear stand
– Sprockets
– Carbs parts
– Tail light
– Tools
– Others (showed on the photo).