New arrival
Aprilia
RSW125
2005
Aprilia

RSW125

2005

Stock # AMGP719

Engine Aprilia

50 hp – 12.500 RPM

2Strokes – 70 KG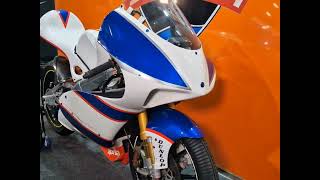 Jorge
It was an amazing experiencie
Engine Aprilia
50 hp – 12.500 RPM
2Strokes – 70 KG
Information & Specifications
---
Aprilia RSW125
Engine: Aprilia
Suspension: Ohlins
Brakes: Brembo
Wheels: Marchesini 17″
ECU: SDAS2
Exhaust: Aprilia Racing
Availability: Inmediately in our store of Barcelona (Spain)
MODEL INFORMATION
The Aprilia RS 125 R is a race motorcycle manufactured by Aprilia to race in the Grand Prix motorcycle World Championship, built to replace the old Aprilia AF1. It was debuted in 1991, and it had many upgrades since. The bike won ten World Championship (one rebranded as Derbi and one as Gilera).
In 1991 the original tank was 12 liters, which became 13 in 1994 and 14 in 1995; the original carburator was a Dell'Orto VHSB 39, which was upgraded to a Dell'Orto VHSD 41 in 1996 and to a Dell'Orto VHSG 42 in 2006.
Since 1996 the brake specification has gone from a single front brake disc 300 mm in carbon steel to a single brake in carbon, with a diameter of 275 mm disc; in 2000 the bike returned to a double disc front braking system .
Since 2007, the bike is available in a new version, called RSA 125, for some riders. The RSA has many new details than the previous model, including improvements in the intake system and the engine. The old version, with some updates from the RSA, is still used as a customer bike and it is called the RS 125 LE.
The RSA (and the "evolution" version of the RS 125) are used not only by Aprilia, but also by Gilera and Derbi (rebranded as such), since all three brands belong to the Piaggio group.
Do you want a 125GP? Our company can get the most exclusive bikes of the market. Only for VIP customers, museums or exclusive collectors! Contact with our team and inform yourself. – RESERVE NOW
In our VIP club you will find the most exclusive race and road bikes, also you can offer your bike for manage the sale. We work with customers to worldwide and we want offer the best service and products.
At Amatumoto Grand Prix Motorbikes, we take pride to have in our stock great exclusive bikes used on the races. That said, we understand that the collector of bikes hobby is enjoyed by some of the most passionate and diverse enthusiasts on the planet.
Detailed Technical Information
---
Frame (VIN): Aprilia RSW125 – TCB 522
Engine: Aprilia

Engine number:  n/a
Current Mileage: n/a
Last Service: n/a
Clutch: Standard (Dry)
Radiator: Aprilia Racing
Exhaust: Aprilia Racing

Suspension & Wheels

Front fork: Ohlins
Rear shock Ohlins
Steering damper: Ohlins
Front wheel: Marchesini 17″
Rear wheel: Marchesini 17″

Brakes

Front Brake Master Cyl.: Brembo
Rear Brake Master Cyl.: Brembo
Front Brake Caliper/s: Brembo
Rear Brake Caliper: Brembo
Front Brake Disk/s: Brembo
Rear Brake Disk: n/a

Electrical & Wiring System

ECU: SDAS2
Data Acquisition: –
More about this bike: Aprilia RS 125R 2005 was in a private collection more of 10 years in hibernation mode. We did it a Basic Racing Service in Amatumoto Garage to check that is in working condition. However, the mileage of the engine is unknow. Our recommendation is to do an engine service, changing the piston and checking the condition of the crankshaft to leave the motorcycle ready to race. We are pending to know the certified Racing History of the bike provided by Aprilia Racing because at this moment we do not have all details of the provenance.  We can delivery the bike to worldwide. The bike include a big lot of spare parts detailed on the photos.
Extra parts included with the bike
– Rear & Front stands
– Wheels
– Springs
– Sprockets
– Battery Charger
– Clamps
– Wiring, ECU & other electronics parts
– Many other parts detailed on photos