Honda
RVF750 RC45
1998
Honda

RVF750 RC45

1998

Stock # AMGP656

Engine Honda

n/a hp – 12.500 RPM

4Strokes – 170 KG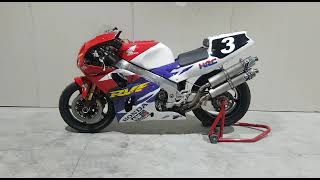 Loren
All perfect! The same that I saw on the photos and descriptions. Great chance!

Engine Honda
n/a hp – 12.500 RPM
4Strokes – 170 KG
Information & Specifications
---
Honda RVF750 RC45
Engine: Honda
Suspension: Showa/Ohlins
Brakes: Nissin
Wheels: Marchesini 17″
ECU: HRC
Exhaust: Termignoni
Availability: Inmediately in our store of Barcelona (Spain)
MODEL INFORMATION
Announced in 1994, Honda's RC45 had the challenging role of replacing the mythical RC30. Initially developed for the road, it rapidly found itself being used in competition, in topflight endurance racing. The RC45 shown here does indeed have a remarkable racing history. In 1999, carrying number 44. Entered in the Superbike category by Team Sud Passion Décomania, it finished 6th overall and was the first Honda home. In 2000 it was entered in the Le Mans 24-hours, carrying number 14. Still owed by Team Sud Passion Décomania, it had the same three riders as in the Bol d'Or. Despite some minor problems with the battery and the lights, notably at the start of the race, the bike finished a fine 5th overall, being the first private entry home and the first RC45 behind Honda's new twin-cylinder VTR SP1 works racer.
Prepared by Lionel Brancquart of Brancquart Compétition, our featured machine has twin injection, the HRC 'Endurance' pack and a reinforced frame, along with Ölhins rear shock and special springs on the fork. It will additionally be sold with crash set spares, including a 16.5in rear wheel, stand, engine parts, brake discs. The bike's owner acquired this historic machine in 2010 and decided to have it repainted in official Honda colours. Soon to be homologated for historic competition, this exceptional RC45 has performance worthy of the name and is just begging to be let loose again on the track.
Do you want a Endurance Race Bike? Our company can get the most exclusive bikes of the market. Only for VIP customers, museums or exclusive collectors! Contact with our team and inform yourself. – RESERVE NOW
In our VIP club you will find the most exclusive race and road bikes, also you can offer your bike for manage the sale. We work with customers to worldwide and we want offer the best service and products.
At Amatumoto Grand Prix Motorbikes, we take pride to have in our stock great exclusive bikes used on the races. That said, we understand that the collector of bikes hobby is enjoyed by some of the most passionate and diverse enthusiasts on the planet.
Detailed Technical Information
---
Frame (VIN): Honda RC45 – 2100139
Engine: Honda

Engine number:  n/a
Current Mileage: n/a
Last Service: n/a
Clutch: Standard
Radiator: Race version
Exhaust: Termignoni

Suspension & Wheels

Front fork: Showa
Rear shock: Ohlins
Steering damper: –
Front wheel: Marchesini
Rear wheel: Marchesini

Brakes

Front Brake Master Cyl.: –
Rear Brake Master Cyl.: –
Front Brake Caliper/s: –
Rear Brake Caliper: –
Front Brake Disk/s: –
Rear Brake Disk: –

Electrical & Wiring System

ECU: HRC
Data Acquisition: –
Extra parts included with the bike
– Rear stand
– Sprocket SET
– Rear wheel 16.5″
More about this bike: Bike in correct condition and specs. The bike belonged to a collector that only use for amateur trackdays, was maintained by an experienced mechanic. The last 5 years did not race with the bike and only was used as display until arrive to us, so I think it's necessary a basic service after return to race.