Condition: New
Engine Gilera
44 hp – 7000 RPM
4Strokes – 157 KG
New arrival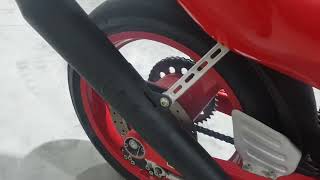 Auction info:
Auction ends: Oct 6, 2023
Time left:
Auction Ended
Reserve price: has not been met
you must login to place a bid
Condition: New
Engine Gilera
44 hp – 7000 RPM
4Strokes – 157 KG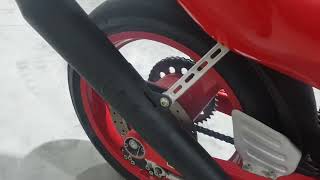 Stuart
Hey Tom, this bike is way better than expected. It's absolutely beautiful! I can't thank you enought!!
Information & Specifications
---
Gilera Saturno Bialbero 1989
Engine: Gilera
Suspension: Marzocchi
Brakes: Brembo
Wheels: Original 17″
ECU: –
Exhaust: Corse Megaphone
Availability: Immediately in our store of Barcelona (Spain)
MODEL INFORMATION
Gilera Saturno 1989 in good condition and ready to run.
The Gilera Nuovo Saturno came and went in a flash, having all but disappeared some four years after it was first seen. They are still around however, and going strong with a loyal fan base too.
The Gilera Nuovo Saturno originally existed purely to satisfy the Japanese motorcyclist love affair with the small capacity, pared down sports machine. The name was chosen as the original Saturno of the 40s and 50s was the sporty machine to have, being fast and lithe, and effective on both the track and the open road.
Gilera Nuovo SaturnoThe heart of the Saturno is hard to pin down as its all so good, the Marzocchi forks and rear suspension are simple in design, but work so well within the whole concept, while the basic frame design in turn compliments the compact engine. The engine in turn is a work of art with mild manners and an ease of use rarely found in machines originating from Europe. It starts at the first press of the button making the kick start largely redundant and quickly settles into a smooth booming tick over, there is almost as much noise being generated by the 40mm Dell'Orto carburettor as there is the exhaust end can such is the amount of air that is being sucked in to feed this hungry engine.
Simply by owning a Gilera Saturno, you will have joined a small and unique band of riders and will, for certain, have plenty to talk about to other bikers whenever you stop for a breather. Bike nights will never be the same again as folk wonder what on earth it is you are riding and most will have it down as some sort of home built special.
Gilera Nuovo Saturno Bialbero 500The engine is rev happy for a single, the internal balancing allowing the throttle to be used with gusto although it does get a little buzzy as the tacho needle sweeps away the dust for the upper reaches of its travel. This buzz is made worse by the lack of footrest rubbers and the like, but it does serve to keep the rider involved in the whole process and saves a look at the tacho to see where the revs are before a gear change.
Do you want a Classic Race bike? Our company can get the most exclusive bikes of the market. Only for VIP customers, museums or exclusive collectors! Contact with our team and inform yourself. – RESERVE NOW
In our VIP club you will find the most exclusive race and road bikes, also you can offer your bike for manage the sale. We work with customers to worldwide and we want offer the best service and products.
At Amatumoto Grand Prix Motorbikes, we take pride to have in our stock great exclusive bikes used on the races. That said, we understand that the collector of bikes hobby is enjoyed by some of the most passionate and diverse enthusiasts on the planet.
Detailed Technical Information
---
Frame (VIN): Gilera Saturno Bialbero 1989
Engine: Gilera

Engine number: –
Current Mileage: n/a Km
Last Service: 1.800 Km
Clutch: Wet
Radiator: –
Exhaust: Corse Megaphone

Suspension & Wheels

Front fork: Marzocchi
Rear shock: Marzocchi
Steering damper: –
Front wheel: Original 17″
Rear wheel: Original 17″

Brakes

Front Brake Master Cyl.: n/a
Rear Brake Master Cyl.: n/a
Front Brake Caliper/s: Brembo
Rear Brake Caliper: Brembo
Front Brake Disk/s: n/a
Rear Brake Disk: n/a

Electrical & Wiring System

ECU: –
Data Acquisition: –
More about this bike:Bike in good condition by the age and working.
Extra parts included with the bike
– No
Aleix
Veryyyyyy Nicee!! Very goood job and fantastic restoration and performance — In Love!! Many thanks guys!.