NSU
SPORTMAX
1953
NSU

SPORTMAX

1953

€34.000,00

Stock # AMGP692

Engine NSU

n/a hp – 7.500 RPM

4Strokes – 130 KG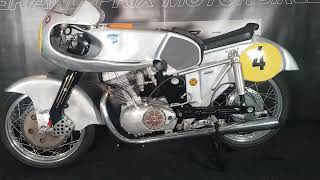 Engine NSU
n/a hp – 7.500 RPM
4Strokes – 130 KG
Information & Specifications
---
NSU Sportmax "Prototype" 1953
Engine: NSU
Suspension: NSU
Brakes:
Wheels: Akront 18″
ECU: n/a
Exhaust: n/a
Availability: Inmediately in our store of Amatumoto Europe (Spain)
MODEL INFORMATION
This bike is the previous prototype of the amazing NSU Sportmax (single cylinder), using rolling parts of the Reenmax and engine of the Sportmax.
In the early fifties the NSU Max was launched. It was one of the most celebrated designs among all those produced by the German house, with a long life in racing including different displacements and mechanical arrangements depending on the variant chosen. Of course, unlike many other motorcycles, the differences between the series units and the racing ones were quite noticeable.
The first race-client derived from the NSU Max was the Rennmax. With its 121 kilos, it was propelled by the energy of its two-cylinder engine with two overhead camshafts capable of delivering almost 40 hp at 11,500 revolutions per minute, 2 cylinders and a 6-speed gearbox. A most effective machine, comfortably winning almost any competition in which it was presented. Its descendant was the Sportmax model of 1954 and 1955, with two types of fairing and naked.
Single cylinder, 69 mm x 66 mm = 247 cm3 and 349 cm3, air-cooled, overhead valves, SOHC, Amal GP carburettor, 29 HP at 9,600 R/mn (247 cm3), 4-speed gearbox, larger brake drums double eccentric. The 1954 and 1955 NSU Sportmax, with two types of fairing.
The bike's first owner was working at the NSU factory in Neckarsulm where he had the opportunity to purchase a Sportmax engine along with other prototype parts when the racing department was disbanded. This Sportmax #3 222 326 engine along with the prototype chassis (using a base chassis from the predecessor Rennmax) was built to develop the 1954-1956 Sportmax.
Over the years and using the molds of the original chassis, the complete motorcycle of this "Sportmax Prototype" was rebuilt.
During the restoration an old prototype 5-speed gearbox was installed (the sportmax eventually used a 4-speed to avoid reliability problems) and a light metal cylinder that aspired to compete in the 350cc category.
An electronic ignition from SACHSE in Bremen now offers reliable sparks for the two cores as the original was totally unusable.
Do you want a Classic GP? Our company can get the most exclusive bikes of the market. Only for VIP customers, museums or exclusive collectors! Contact with our team and inform yourself. – RESERVE NOW
In our VIP club you will find the most exclusive race and road bikes, also you can offer your bike for manage the sale. We work with customers to worldwide and we want offer the best service and products.
At Amatumoto Grand Prix Motorbikes, we take pride to have in our stock great exclusive bikes used on the races. That said, we understand that the collector of bikes hobby is enjoyed by some of the most passionate and diverse enthusiasts on the planet.
Detailed Technical Information
---
Frame (VIN): 22-251R-1102
Engine: NSU Sportmax

Engine number: 3 222 326
Current Mileage: n/a
Last Service: 40 km since last service (rebuild)
Clutch: Dry
Radiator: –
Carburettor: Amal
Exhaust: n/a

Suspension & Wheels

Front fork: n/a
Rear shock: n/a
Steering damper: n/a
Front wheel: Aluminium 18″
Rear wheel: Aluminum 18″

Brakes

Front Brake Master Cyl: n/a
Rear Brake Master Cyl: n/a
Front Brake Caliper/s: Drum
Rear Brake Caliper: Drum
Front Brake Disk/s: n/a
Rear Brake Disk: n/a

Electrical & Wiring System

ECU: –
Data Acquisition: –
More about this bike: NSU Sportmax Proto is ideal for specialist collectors of european bikes of these ages and museums. The bike is checked and ready to race! We have available original memorabilia of NSU like posters of the 50/s era and engine crankcases, we can sell by an extra price with the bike.
Extra parts included with the bike
– Rear stand