Suzuki
SUZUKI RG500
1987
Suzuki

SUZUKI RG500

1987

€21.000,00

Stock # AMGP715

Private Party

95 hp – 9000 rpm

2Strokes – 175 KG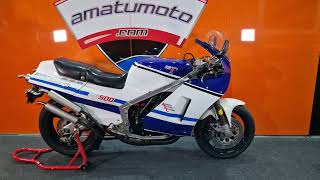 Loren
All perfect! The same that I saw on the photos and descriptions. Great chance!

Private Party
95 hp – 9000 rpm
2Strokes – 175 KG
Information & Specifications
---
Suzuki RG500
Engine: Suzuki
Suspension: Customized
Brakes: Nissin
Wheels: Standard
Mileage: 47.900 Km – (fully restored)
Registered: Registered in Europe + Bill of sale
Availability: in our store of Barcelona (Spain)
MODEL INFORMATION
Bike in correct and ready for the road. It was serviced and only used for display on the particular garage of the current owner. We deliver the bike with bill of sale and spanish paperwork.
Derived straight from Suzuki's half-liter RG Gamma XR45 factory Grand Prix racer, the RG500 was a road-legal replica racer produced between 1985 and 1987. From the mid-'70s to the mid-'80s, Suzuki was a dominant force in premier class competition. Barry Sheene achieved back-to-back 500cc championship titles in '76 and '77 before the Gallina Suzuki team repeated the feat half-a-decade-later with riders Marco Lucchinelli and Franco Uncini in '81 and '82. Suzuki also won seven consecutive 500cc Class Constructors' titles around this same time.
To capitalize on the brand's reputation for building high-performance race bikes, Suzuki decided to develop a slightly-tamed production version of its competition square-four machine. 7,340 examples were produced in the first year of production (1985), with another 1,412 in 1986 and a final 532 specimens in 1987, making for a total of just 9,284. Due to emissions regulations (among other reasons), Suzuki never officially sold the RG500 Gamma in America,
Do you want a Road bike? Our company can get the most exclusive bikes of the market. Only for VIP customers, museums or exclusive collectors! Contact with our team and inform yourself. – RESERVE NOW
In our VIP club you will find the most exclusive race and road bikes, also you can offer your bike for manage the sale. We work with customers to worldwide and we want offer the best service and products.
At Amatumoto Grand Prix Motorbikes, we take pride to have in our stock great exclusive bikes used on the races. That said, we understand that the collector of bikes hobby is enjoyed by some of the most passionate and diverse enthusiasts on the planet.
Detailed Technical Information
---
Frame (VIN): HM31A105518
Engine:

Engine number: n/a
Current Mileage: 47.900 Km
Last Service: 900 Km – Fully restoration
Clutch: –
Radiator: –
Exhaust: Jollymoto

Suspension & Wheels

Front fork: Telescopic hydraulic fork (CBR900)
Rear shock: Mono shock WP
Steering damper:
Front wheel: Original  120 – 60 x 17″
Rear wheel: Original 160 – 60 x 17″

Brakes

Front Brake Master Cyl.: Nissin
Rear Brake Master Cyl.: –
Front Brake Caliper/s: Nissin
Rear Brake Caliper: –
Front Brake Disk/s: –
Rear Brake Disk: –
Electrical & Wiring System: –

ECU: –
Data Acquisition: –
More about this bike:Bike in good condition and ready for the road. It was full overhauled and serviced for a perfect restoration in 2021. The last owner keep in his garage and only used a pair of weekends (around 900 km).The frame and all components was checked during the service. As you can see this bike have a lot of bits to get a fast riding and solve the frame problems of the 2strokes 500's of the era. The swingarm is original from RGV250, the front fork belonged to a CBR900, brakes are Nissin, the radiator is high volume, Jollymoto Exhaust.. and many other improved parts. All seals, hoses and liquids was changed also. The engine was fully revised using new pistons and cylinders refurbished, the carburettors was cleaned and serviced to offers the max performance. The electric wiring is totally brand new also. As you can see the bike have some comestics defects. We deliver the bike homologated and registered plate (Bill of Sale and European paperwork). Any doubt about the restoration or current status of the bike, contact us.
Extra parts included with the bike
– Bellypan
– Original Exhaust
– Original Radiator
– Rear Stand
– Standard Radiator
– Crankcase
– Manual
– Other small parts