Condition: Used
Seller: Private Partly
Location: Spain
New arrival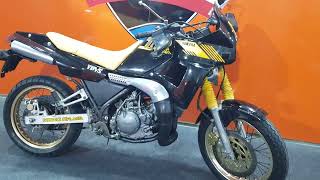 Auction info:
Auction ends: Mar 9, 2023
Time left:
Auction item did not make it to reserve price
Reserve price: has not been met
you must login to place a bid
Condition: Used
Seller: Private Partly
Location: Spain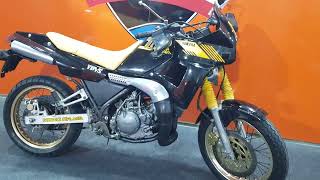 Aleix
Veryyyyyy Nicee!! Very goood job and fantastic restoration and performance — In Love!! Many thanks guys!.

Information & Specifications
---
Yamaha TDR 250
Engine: Yamaha
Suspension: Standard
Brakes: Single disk
Wheels: Standard 18 " / Standard 17″
Mileage: 28.262 Km
Registered: Bill of Sale Only
Availability: in our store of Barcelona (Spain)
MODEL INFORMATION
The Yamaha TDR250 was a street-legal middleweight dual-sport bike produced by Japanese motorcycle manufacturer Yamaha between 1988 and 1993.
It was powered by the naturally-aspirated, crankcase reed-valve inducted, liquid-cooled 249cc parallel-twin two-stroke engine from the first generation TZR250 (this same engine also powered the R1-Z). This engine featured the 'YPVS' Yamaha Power Valve System, CDI ignition and digital spark advance. Almost all of the engine, gearbox, and electrical components are interchangeable with the TZR and R1-Z.
The TDR was designed to provide agile handling and quick acceleration both on and off the road, and power delivery was modified to suit its intended use. The special upswept expansion chambers, unique to the TDR, part of this; as well as aiding ground clearance. The bike was originally released in a 250cc format, but a 240cc derivative was also produced exclusively for the French market.
Do you want a Road bike? Our company can get the most exclusive bikes of the market. Only for VIP customers, museums or exclusive collectors! Contact with our team and inform yourself. – RESERVE NOW
In our VIP club you will find the most exclusive race and road bikes, also you can offer your bike for manage the sale. We work with customers to worldwide and we want offer the best service and products.
At Amatumoto Grand Prix Motorbikes, we take pride to have in our stock great exclusive bikes used on the races. That said, we understand that the collector of bikes hobby is enjoyed by some of the most passionate and diverse enthusiasts on the planet.
Detailed Technical Information
---
Frame (VIN): 2YK-067517
Engine:

Engine number: 1KT00
Current Mileage: 28.262 Km
Last Service: –
Clutch: –
Radiator: –
Exhaust: –

Suspension & Wheels

Front fork: telescopic adjustable fork
Rear shock: Mono shock
Steering damper: –
Front wheel:  110/90 -18″
Rear wheel: 120/80 -17″

Brakes

Front Brake Master Cyl.: –
Rear Brake Master Cyl.: –
Front Brake Caliper/s: –
Rear Brake Caliper: –
Front Brake Disk/s: 320mm
Rear Brake Disk: 210mm
Electrical & Wiring System: –

ECU: –
Data Acquisition: –
More about this bike: Bike in working condition ans same status as imported from Japan. All components seems standard/original. As you can see the bike have the typical cosmetic defects of the age. The engine starts and is working but need a service before return to the road and ride correctly. We deliver the bike with Bill of Sale.
Any doubt about the current status of the bike, contact us.
Extra parts included with the bike
– No
Sam
I had a huge smile on my face when I opened the crate of the bike! Is the best bike that I purchased! Is fantastic! I purchased my bike only by photos and by the recommendations of another friend collectors. The Amatumoto Team helped me at all times and organized everything easily and simply to receive the bike in my house. Bike and parts in crate, fully protected and in the best conditions. The best site for purchase a race bike! They will never cheat you.